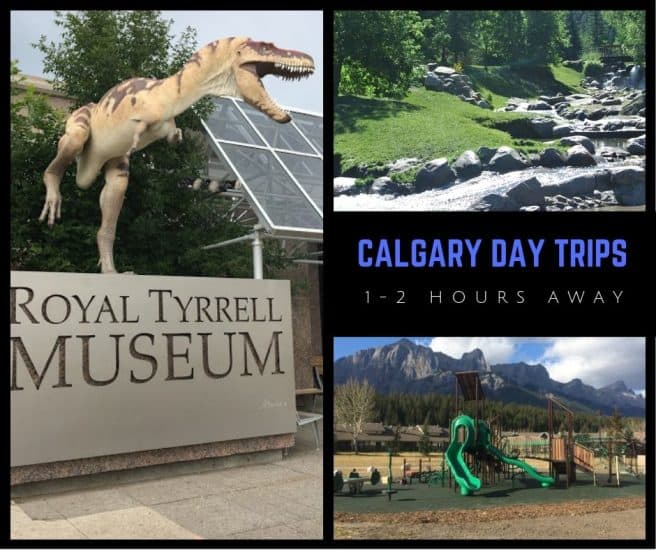 Heading West
Canmore
Canmore is just over an hour away from Calgary.
Canmore Parks and Playgrounds
Canmore has some cool playgrounds including the Canmore Train Playground and West Canmore Park Playground. If you love to bike, Legacy Trail is highly recommended. There is also a skate and bike park at
Millennium Park.
There are lots of great parks and hikes nearby such as Peter Lougheed Provincial Park, Bow Valley Wildland Provincial Park, Canmore Nordic Centre Provincial Park, Grassi Lakes, Jura Creek and Quarry Lake. Policeman's Creek Boardwalk and walking along the river are also popular spots.
Canmore Attractions
Go swimming or climbing at Canmore's rec centre, Elevation Place.
Canmore Food
Grab some ice cream at the Scoopin' Moose or in the summer at the Ice Cream Bus. Grab a treat at the Olde Thyme Candy Shoppe.
For some family friendly food try the Rocky Mountain Flatbread Company, Rose and Crown pub (it has a playground on the patio!), The Grizzly Paw Pub, Rocky Mountain Bagel for breakfast or grab a snack at the French-inspired bakery, Le Fournil.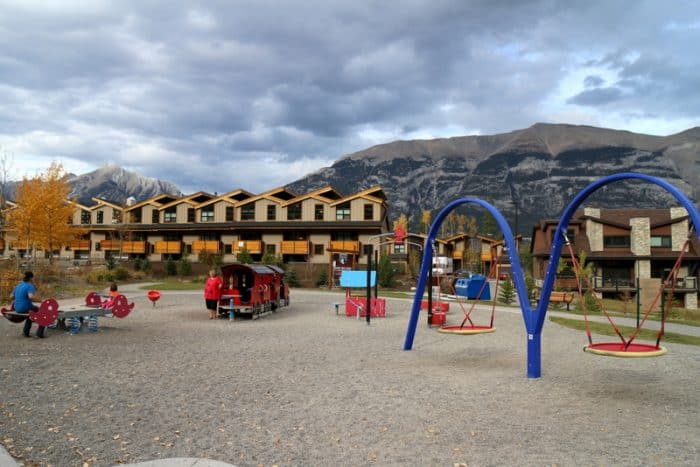 Banff
Banff is about 90 minutes from Calgary.,
Banff Parks and Playgrounds
Banff has several good playgrounds including the natural playground in Banff's Central park and a skatepark.
Banff has some great family friendly trails including Fenland Trail, Cave & Basin Marsch Trail, Johnson Canyon, Tunnel Mountain Trail and the Bow River Loop.
Banff Attractions
Check out the Bankhead Ghost Town, spot the Hoodoos, walk down Banff Avenue, explore the Cave & Basin, soak in the Upper Hot Springs, take a trip on the Banff Gondola, watch for trains at the railway station, walk through the Banff Springs Hotel (you can even go bowling there) visit the Whyte Museum and more.
Banff Food
Banff has a ton of great places for treats including, Cows Ice Cream, Mountain Chocolates, Banff Sweet Shoppe, Beaver Tails, The Fudgery and Welch's Candy Store. For coffee try one of the Evelyn's Coffee Bar locations.
Read more: Things to do with kids in Banff in the Winter, Christmas in Banff with Kids, An Insider's Guide to Banff with Kids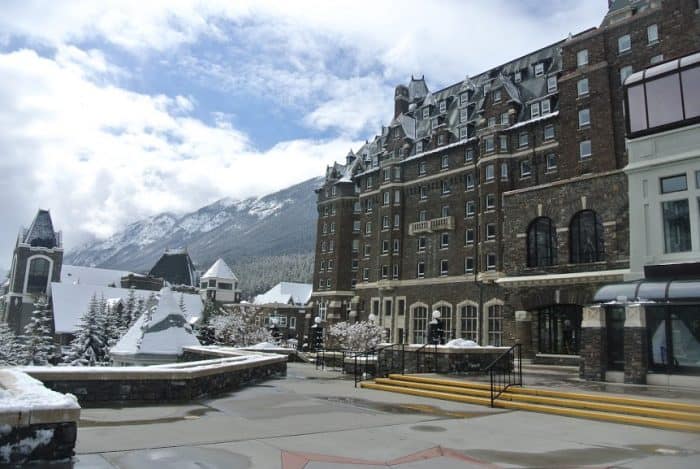 Lake Louise
Just under 2 hours from Calgary
Lake Louise Parks
Check out some beautiful views at Lake Louise and Moraine Lake. Go for a 4 km round trip loop on the Lake Louise Lakeshore path.
Lake Louise Attractions
Travel to the top of the Lake Louise Gondola. In the summer months you can also visit the Wildlife Interpretation Centre at the top of the Gondola.
Lake Louise Food
Go to Laggan's bakery for fresh baked good, sandwiches and soup. Grab some candy at the Old Tyme Candy Shoppe.
Sundre
Sundre is an hour and 20 minutes from Calgary.
Sundre Parks and Playgrounds
The two schools in Sundre both have highly recommended playgrounds.
Snake Hill Recreation Area is a conservation area full of groomed nature trails great for hiking and biking. In the winter, you can also go cross-country skiing. If you are lucky, you may even spot wild horses in the area to the West of Sundre.
Sundre Attractions
Learn about the culture and history of the area at the Sundre & District Pioneer Village Museum – while you are there check out the World of Wildlife exhibit featuring taxidermy animals from around the world.
Sundre Food
Kodiak BBQ Deli
East
Three Hills
Three Hills is 1 hour and 20 minutes from Calgary.
Three Hills Parks and Playgrounds
Rob Naylor Splash Park is an outdoor wading pool and spray park with free admission and a lifeguard on duty. There is also a playground at the same park.
Trochu
Trochu is 90 minutes from Calgary.
Trochu Parks and Playgrounds
Brian's Spray Park is free to access and is located next to the outdoor pool.
Drumheller
Drumheller is 90 minutes from Calgary
Drumheller Parks and Playgrounds
Drumheller has two great canyons to explore, Horsethief Canyon and Horseshoe Canyon both offer great views and hikes. Just outside the Drumheller aquatic centre, you can find the drumheller spray park. There is a great playground that is free to access outside of the Royal Tyrrell Museum and another good one at Greentree School.
Drumheller Attractions
Drumheller is filled with tons of family friendly tourist attractions. Most notably is of course, the world famous dinosaur museum – the Royal Tyrrell Museum.
You can also walk across the Rosedale Suspension Bridge, see the little church, walk up the World's Largest Dinosaur, go dino spotting downtown, drive across the 11 bridges to Wayne, visit the Atlas Coal Mine, go go-carting at Cactus Coulee Fun Park, walk the Hoodoo Trail or drive the dinosaur trail and ride on the Bleriot Ferry.
Drumheller Food
Get some milkshakes and burgers at Bernie & the Boys Bistro, grab some burgers and fries or ice cream at the Asteroid or enjoy the quirky atmosphere at the last chance saloon.
Read more: Things to do with Kids in Drumheller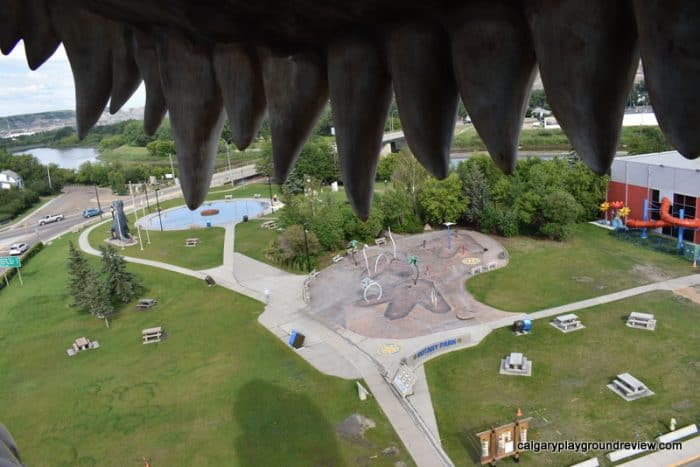 Bassano
Bassano is 95 minutes from Calgary.
Bassano Attractions
Bassano has an awesome outdoor pool with a shallow, beach-entry spray park connected to a lane pool with a water slide and a diving board as well as a hot tub.
Brooks
Brooks is 2 hours from Calgary.
Brooks Parks and Playgrounds
The Duke of Sutherland Park has a fantastic spray park and great playground located right next to each other.
Brooks Attractions
Do a self guided tour of the impressive Brooks Aqueduct National and Provincial Historic Site. There is also a cute boat themed playground.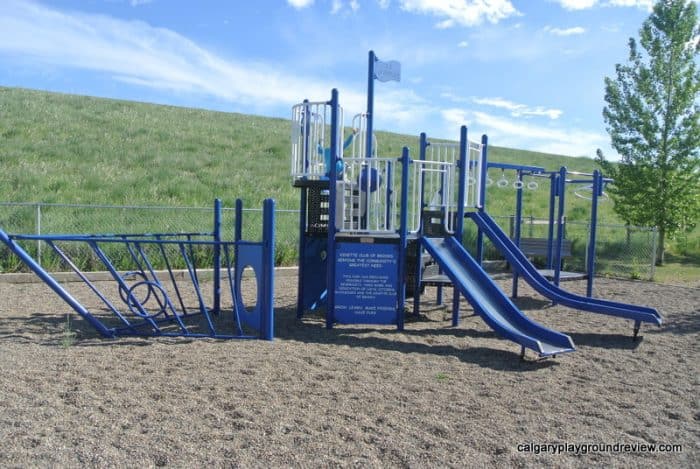 North
Innisfail
Innisfail is about 70 minutes North of Calgary.
Innisfail Parks and Playgrounds
Innisfail spray park is located next to the Innisfail Aquatic Centre.
Innisfail Attractions
Discovery Wildlife provides permanent homes for wildlife orphans that cannot be released into the wild, exotic pets that were being kept illegally and unwanted pets. Experience presentations and close up animal experiences. Learn about the history of the area at the Innisfail and District Historical Village. At the RCMP Police Dog Service Training Centre, you can see public demonstrations in the summer months (check dates before you go).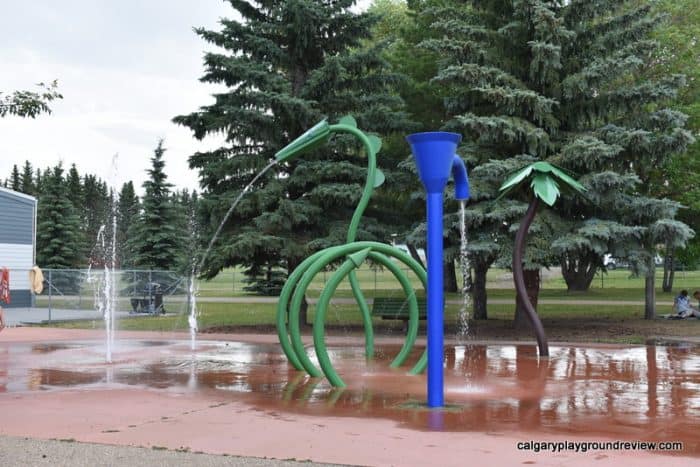 Red Deer
Red Deer is about 90 minutes North of Calgary.
Red Deer Parks and Playgrounds
Red Deer has many great parks and playgrounds including the natural playground, Imagination Grove at Kerry Woods Nature Centre, the fantastic spray park Blue Grass Sod Farm Central Spray and Play and Bower Ponds Park.
Red Deer Attractions
Red Deer has a lot of fun family attractions including the Alberta Sports Hall of Fame and Museum, Red Deer District Museum and Art Gallery, Kerry Wood Nature Centre, Heritage Ranch and Sunnybrook Farm Museum.
If you are looking for some water fun, check out Discovery Canyon or the the fantastic aquatic Centre at the Collicutt Centre.
Red Deer Food
Grab some delicious donuts at the Donut Mill, go for a nice lunch at Heritage Ranch's Westlake Grill, enjoy some delicious ice cream at the Little Ice Cream & Soda Shop or get some traditional Mexican at the Old Mexican Taco Buffet.
Read more: 10 reasons you should take your kids to Red Deer, Red Deer Water Fun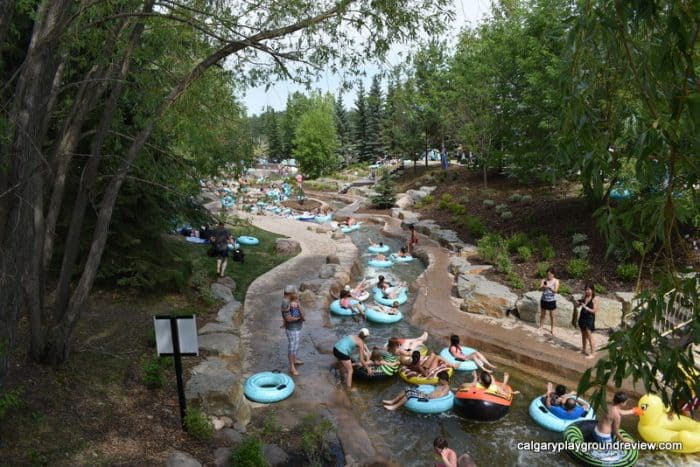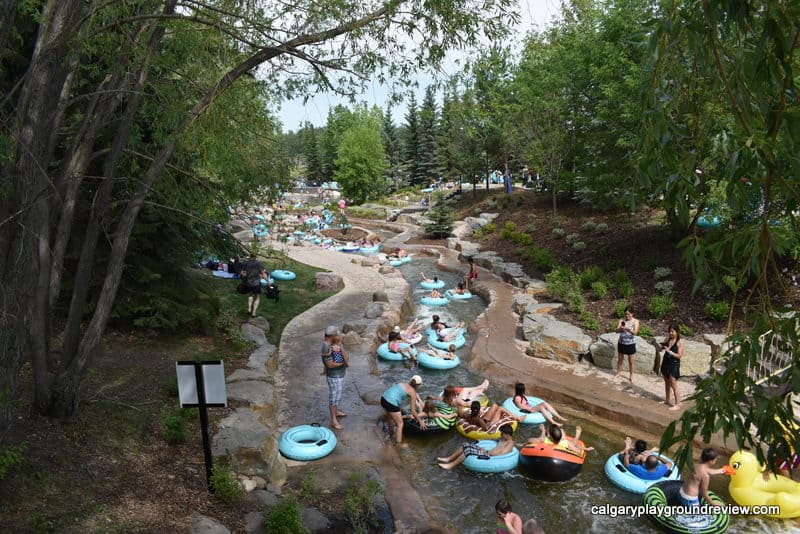 Blackfalds
Blackfalds is about 95 minutes North of Calgary.
Blackfalds Parks and Playgrounds
At Tayles Splash Park you can find a lovely spray park located next to a cool pirate ship themed playground.
Blackfalds Attractions
The Abby Centre is Blackfalds' rec centre. The Outdoor Aquatic Centre is an awesome recreation pool for families and they also have a great indoor play centre.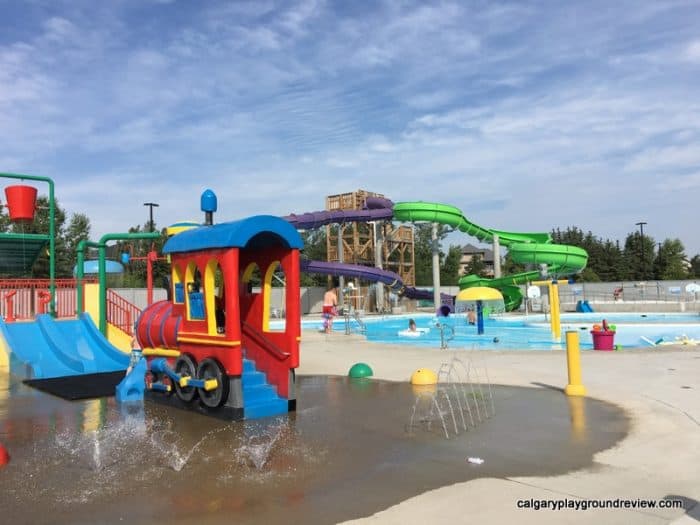 Lacombe
Lacombe is an hour and 40 minutes north of Calgary.
Lacombe Parks and Playgrounds
There is a spray park located next to the pool and a short walk from a nice playground.
Lacombe Attractions
Aspen Beach at Gull Lake is a great spot for families to play – the water is shallow for a long time and the beach is sandy.
Lacombe Food
Go for ice cream at The Cone, Sweet Capones for their famous cannolis and other Italian desserts, grab a coffee at The Good Neighbour or stop for lunch at Cilantro and Chive or the Eastside Eatery. (check for their hours before you make plans some may be closed on Sundays or even the whole weekend)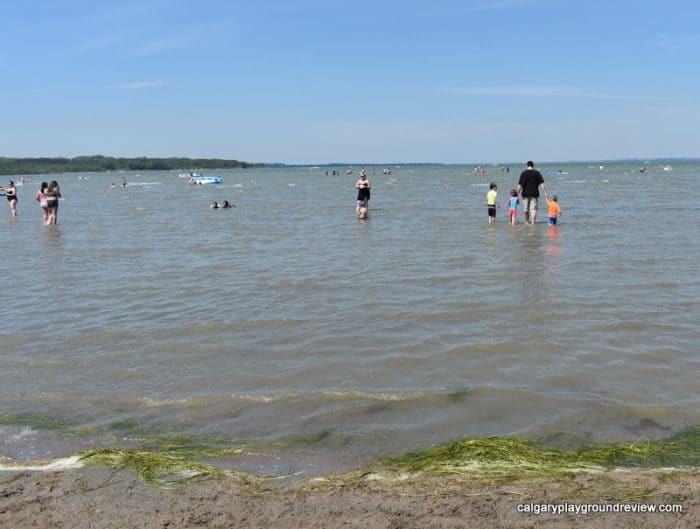 Sylvan Lake
Sylvan Lake is about an hour and 40 minutes North of Calgary.
Sylvan Lake Attractions
Sylvan Lake Provincial Park Beach is a popular place for families to play in the lake. The lake also hosts Aqua Splash.
Sylvan Lake Food
Stop for ice cream at The Big Moo or their second nearby location More Moo.
Penhold
Penhold is 75 minutes from Calgary.
Penhold Parks and Attractions
Penhold has a spray park with a cute train feature.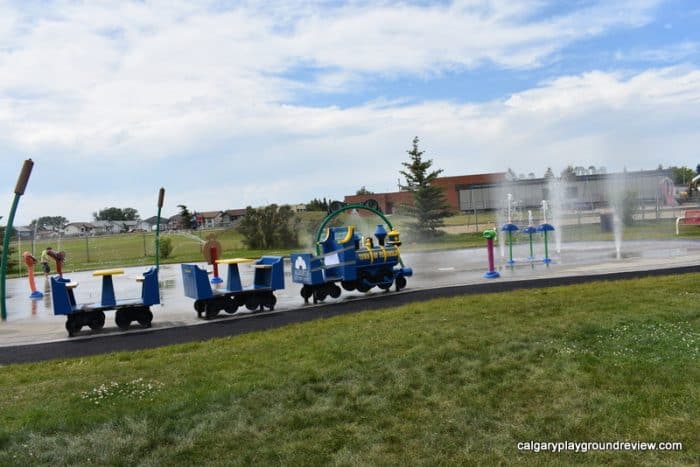 Rimbey
Rimbey is 2 hours North of Calgary
Rimbey Parks and Attractions
Rimbey has an awesome spray park that is free to access next to their outdoor aquatic centre.
South
Claresholm
Claresholm is an hour and 20 minutes from Calgary
Claresholm Parks and Playgrounds
Claresholm spray park near the Centennial Park campground.
Claresholm Attractions
Learn about the history of area at the Claresholm & District Museum.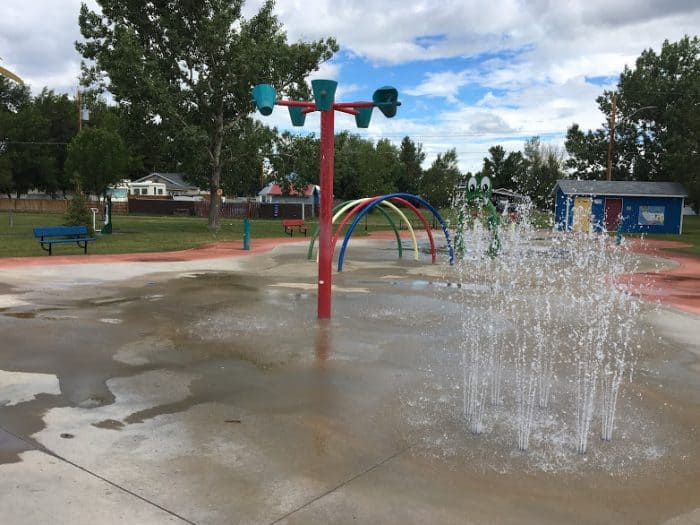 Vulcan
Vulcan is an hour and 20 minutes from Calgary.
Vulcan Parks and Playgrounds
Vulcan has all your summer fun in one location at their park on Centre street and 5th avenue. There you can find a spray park, outdoor pool, playground, skatepark and beach pit.
Vulcan Attractions
If you are passing through be sure to look for the Starship Enterprise near the highway.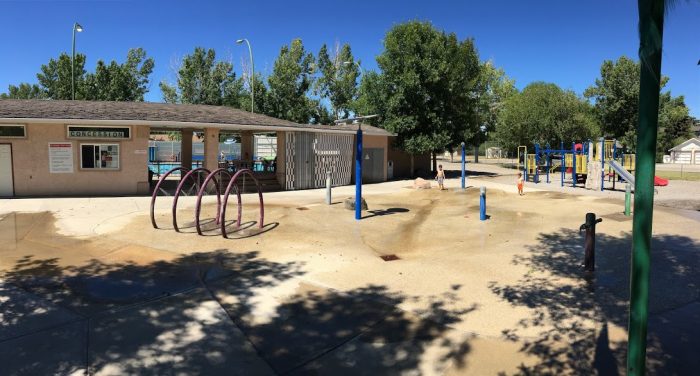 Fort Macleod
Fort Macleod is an hour and 45 minutes from Calgary
Fort Macleod Parks and Playgrounds
Fort Macleod has a great park just off the main drive with a spray park and a playground that includes a zipline.
Fort Macleod Attractions
The Fort – Museum of the NWMP and FIrst Nations Interpretive Centre is located right in the centre of town. In July and August you can catch their world renown Musical Ride. Head Smashed-in-Buffalo Jump is a UNESCO-designated World Heritage Site located 15 minutes to the West of Fort Macleod.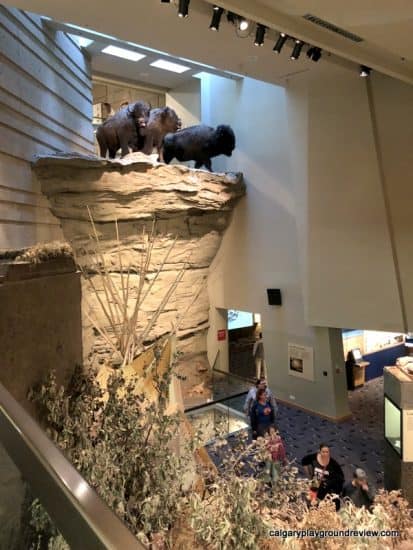 Fort Macleod Food
Igloo Ice Cream shop for burgers, ice cream and more. If you would like a sit down restaurant, MacLeod's Family Restaurant and Lounge is a surprisingly good family restaurant.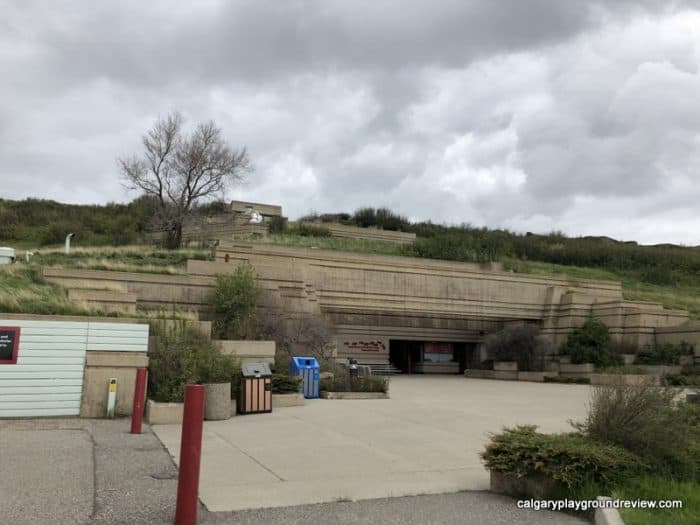 Looking for things to do closer to Calgary? Check out our article on short day trip from Calgary that are all an hour or less away.
Please Note: 
We do our best to ensure the information on Calgary Playground Review is accurate, however information and events are subject to change. Please contact the organizations directly to avoid disappointment.
Can you help make this article better?
If you have noticed an error, have additional information or would like to share a comment you can:
E-mail us at calgaryplaygroundreview@gmail.com
Find us on Facebook: CalgaryPlaygroundReview
Find us on Instagram: YYCdana
Tweet us: YYCdana
We are not affiliated with any venues, attractions or organizations. Please message them directly if you have questions or concerns.