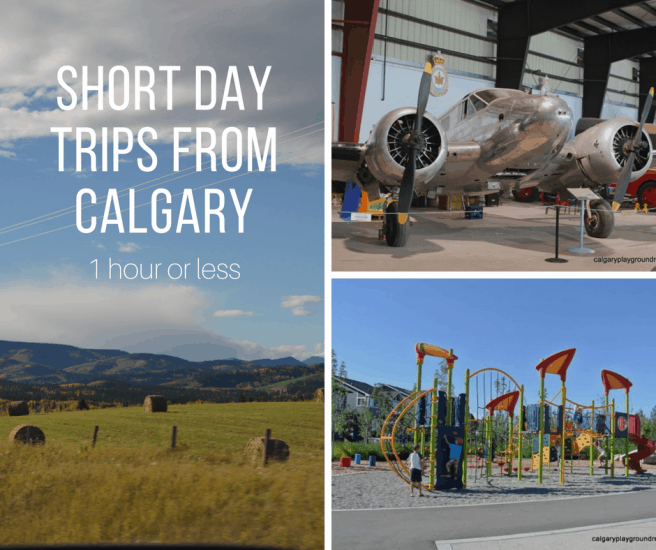 Heading North
Airdrie is less than half an hour from Calgary making it an easy trip particularly from the North end of the City.
Airdrie Parks & playgrounds
Airdrie has some lovely parks including many awesome playgrounds. Airdrie's regional park Chinook Winds, has a spray park, playground and skate park all in one area.
Airdrie Attractions
On Sundays during the warmer months you can visit Iron Horse Park where you can ride on miniature trains – even more awesome than it sounds. Looking for some indoor fun? Try Jumble District or the nearby Big Fun Play Centre. The pool at the Genesis place is very popular and tends to be less busy than Calgary's leisure pools.
Airdrie Food
Try Avenue Bakery for some baked treats or Hiho Gas & Grocery for some ice cream.
Read more: Things to do in Airdrie with Kids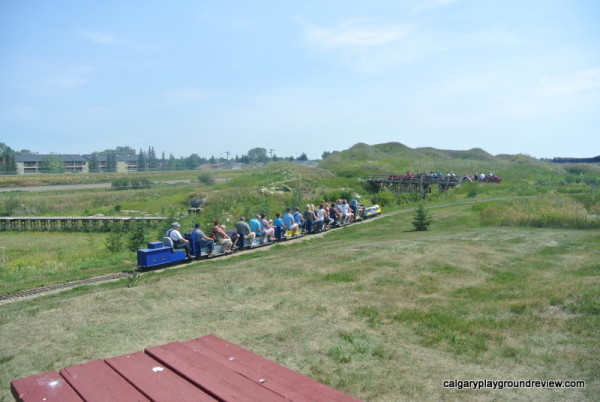 Beiseker is a small town about 45 minutes North East of Calgary with a population of less than 1000 people.
Beiseker Parks and Playgrounds
It has two nice playgrounds including one with a zipline.
Beiseker Attractions
The Beiseker Station Museum is filled with local artifacts that provide insight into the lives of the early settlers of the area.
Read more: Things to do in Beiseker with Kids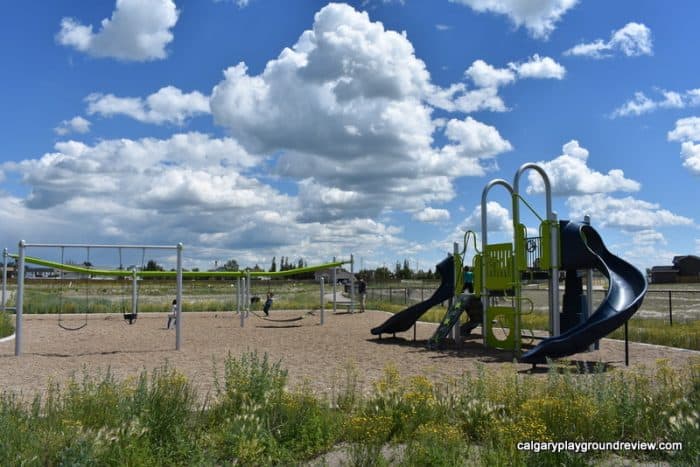 Irricana
Located due East of Airdrie (40 minutes from Calgary).
Irricana Parks and Playgrounds
Irricana has an awesome grain elevator and train themed playground and now has a new spray park off Henrick's Drive.
Irricana Attractions
Pioneer Acres of Alberta – located on 50 acres of land and comprised of over a dozen buildings.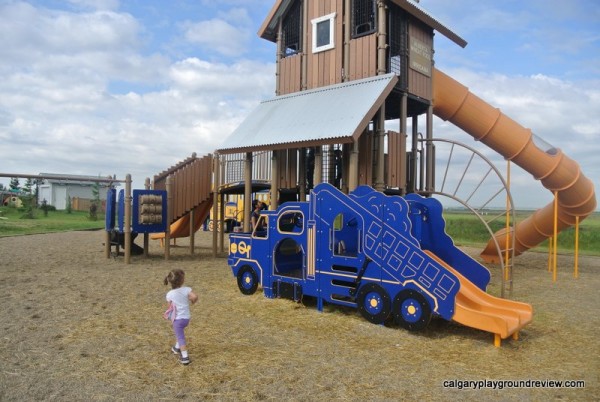 Crossfield
Crossfield is located 35 minutes to the North of Calgary.
Crossfield Parks and Playgrounds
There is a great playground in a new development at Amery Park as well as a small spray park in Banta Park.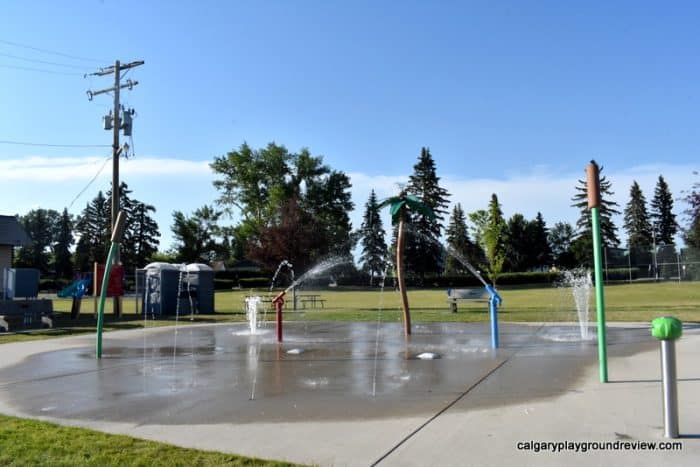 Carstairs
Carstairs is located 45 minutes North of Calgary
Carstairs Parks and Playgrounds
Carstairs has a great playground next to Carstairs Library and Carstairs Elementary School. A five minute drive will take you to their spray park which also has a small playground beside.
Carstairs Attractions
Carstairs also has the Carstairs Heritage Centre.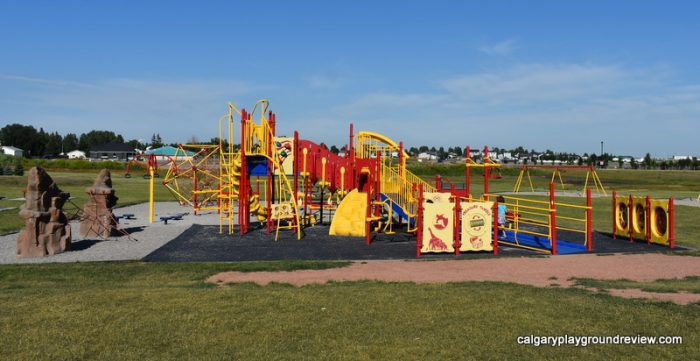 Olds
Olds is located 60 minutes North of Calgary.
Old Parks and Playgrounds
Olds has a beautiful prairie themed spray park.
Olds Attractions
The Olds College Botanic Gardens is open to the public and is a beautiful place for a walk.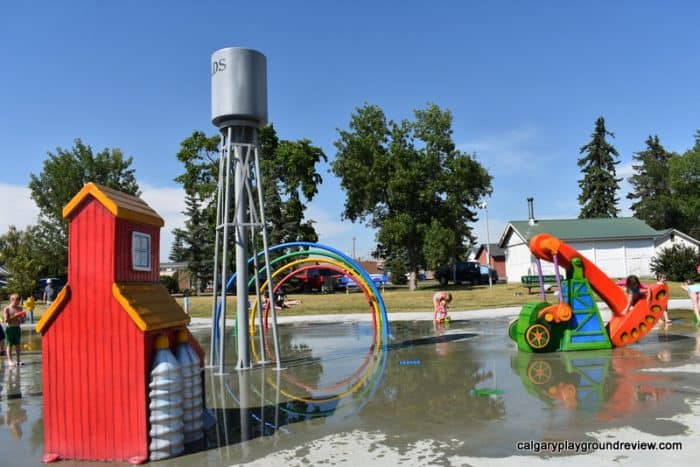 Bowden
Bowden is about an hour North of Calgary.
Bowden Attractions
Check out the Bowden Sunmaze at Eagle Creek Farms
Torrington
Torrington Attractions
Torrington is best known for its memorable and quirky gopher museum. The Torrington Gopher Hole Museum features dioramas of stuffed gophers in various poses. You are unlikely to see something like it anywhere else.
Heading West
Bragg Creek
Bragg Creek is located 40 minutes West of Calgary. Bragg Creek is called the Gateway to Kananaskis.
Bragg Creek Parks and Playgrounds
The new playground at the community centre is great for all ages.
Bragg Creek Attractions
Have a picnic at Forgetmenot Pond or Elbow Falls. Go on a walk along Beaver Flats Interpretive Trail, Paddy's Flat Interpretive Trailor Alder Trail.
Bragg Creek Food
Frontier Candy and Ice Cream
Cochrane
Cochrane is located 35 minutes North West of Calgary.
Cochrane Parks and Playgrounds
Cochrane has a number of great playgrounds including a new natural playground along the river.
Cochrane Attractions
Cochrane Ranch is a lovely spot for a picnic and also hosts Cochrane's Farmer's Market on Saturdays and the Cochrane Historical Museum. Spray Lakes Sawmills Centre has some great indoor play options and a fantastic aquatic centre. Cochrane Golf Club has a beautiful mini golf course. Check out one of the nearby Provincial Parks – Glenbow Ranch or Big Hill Springs.
Cochrane Food
Be sure to stop at MacKay's for ice cream. Airdir'e popular Avenue Bakery has now expanded to Cochrane. Guys Cafe comes highly recommended for families.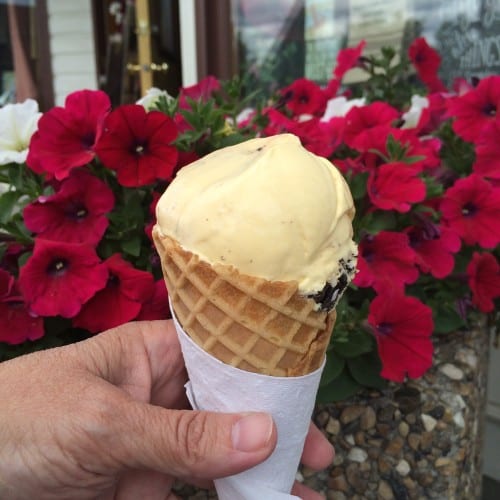 Heading South
Okotoks
Okotoks is located 30 minutes south of Calgary.
Okotoks Parks and Playgrounds
Enjoy the riverside at Sheep River pathways. Okotoks has a spray park and skatepark right next to the rec centre. A new accessible playground near Dawgs Stadium and a great playground in Mountainview.
Okotoks Attractions
See Big Rock, the huge glacier erratic that was deposited by a Glacier.  At the nearby Chinook Honey Company you can learn about honeybees and take a tour of Meadery and the Honeybee Discovery Centre. The Saskatoon Farm is also nearby. The leisure centre is very popular and includes a great leisure pool with tot area. Crystal Ridge Golf Course has a junior golf set up perfect for kids as well as The MaxMan's Mini Golf.
Okotoks Food
Stop at the Big Dipper Ice Cream Shop or the Chinook Honey Company for ice cream. Pick up some treats at 94 Take the Cake, Bakery Home Ground of the Brown Sugar Bake Shop. The Heartland Cafe is located in an old church and comes highly recommended for families as are Saigon Sub and Mama's Restaurant.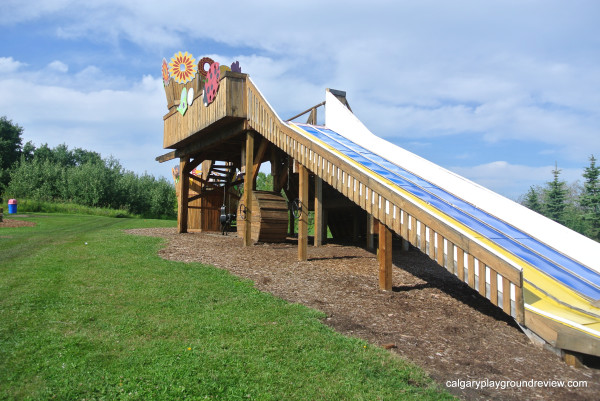 Millarville
Millarville, about 50 minutes from Calgary, is famous for their Millarville Market during the summer. They also have Christmas Market in the fall.
Turner Valley and Black Diamond are about 50 minutes from Calgary and Longview is about 65 minutes away.
Attractions
The Drive down Cowboy Trail is beautiful and passes by a lot of ranches making seeing cows and horses almost a sure thing. Turner Valley has a free spray park next to their outdoor pool. Black Diamond has a couple lovely playground pit stops. Head a bit further south and you will get to Bar U Ranch. Bar U Ranch is a national historic site and living history museum (think Heritage Park, but a ranch instead of a town). It commemorates Canada's ranching heritage. It's well worth the trip.
Food
The Chuckwagon Cafe in Turner Valley gets rave reviews but be prepared for a wait. Check Out Marv's Soda Shoppe for classic diner food as well as some ice cream and treats. If you like jerky, Longview Jerky Shop is a must.
Read more: Things to do in Turner Valley, Black Diamond & Longview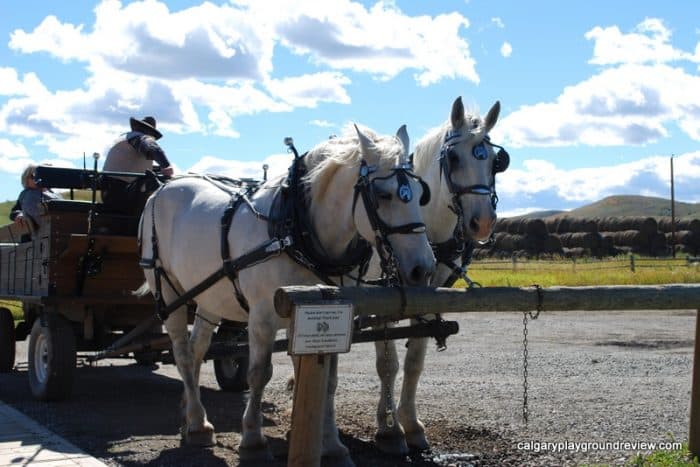 High River is located 50 minutes South of Calgary.
High River Parks and Playgrounds
High River has some fun playgrounds including a natural playground and one located in the centre of town in the George Lane Memorial Park (where you can also find a campground). High River also boasts a large spray park with lots of room to run around.
High River Attractions
Museum of the Highwood is a small museum which has a small but excellent children's area.
High River Food

Eat inside an old train car at the Whistle Stop Cafe, go to Evelyn's Memory Lane Diner for an excellent take on classic diner food or stop by the Hitchin' Post Drive-in for burgers and shakes.
Read more: Things to do with kids in High River
Nanton is located 60 minutes south of Calgary.
Nanton Parks and Playgrounds
There is a great playground right along the highway and next to the Bomber Command Museum.
Nanton Attractions
The Bomber Command Museum of Canada features a Lancaster Bomber that you can even walk inside. At the Museum of Miniatures you can see depictions of the Old West in on a miniature scale. Canadian Grain Elevator Discover Centre offers guided and self-guided tours.
Nanton Food
Nanton Candy and Ice Cream Shop has one of the best candy selections in Southern Alberta.
Read More: Things to do in Nanton with Kids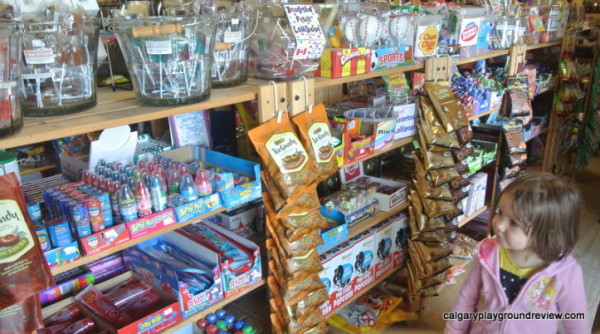 Mossleigh
Mossleigh Attractions
Aspen Crossing is located 60 minutes to the South East of Calgary. There you can go on train excursions (tickets required), Escape rooms (booking required) and special events.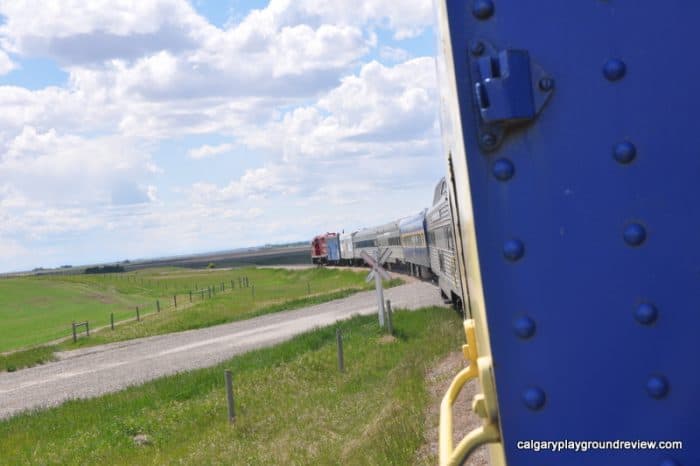 Heading East
Chestermere
Chestermere is 25 minutes to the East of Calgary.
Chestermere Parks and Playgrounds
There is a new playground Ship Wreck playground being put in at Cove Park (2018).
Chestermere Attractions
Chestermere Lake has a lovely beach with sand where you can go swimming at the recently redeveloped Anniversary Park. The Chestermere Family Bike Park is open (weather dependent) from May to October and offers outdoor bike tracks for all ages and abilities to work on their skills.
Strathmore is 40 minutes to the East of Calgary.
Strathmore Parks and Playgrounds
Strathmore has some great playgrounds and a lovely spray park located in the centre of town in the beautiful Kinsman Park.
Strathmore Attractions
Strathmore also has some great small town events like the Santa Claus Parade and the Strathmore Stampede Parade.
Strathmore Food
Rocky's bakery is a great place for a treat and Kim's Cafe is a great spot for a family meal.
Read more: Things to do in Strathmore with Kids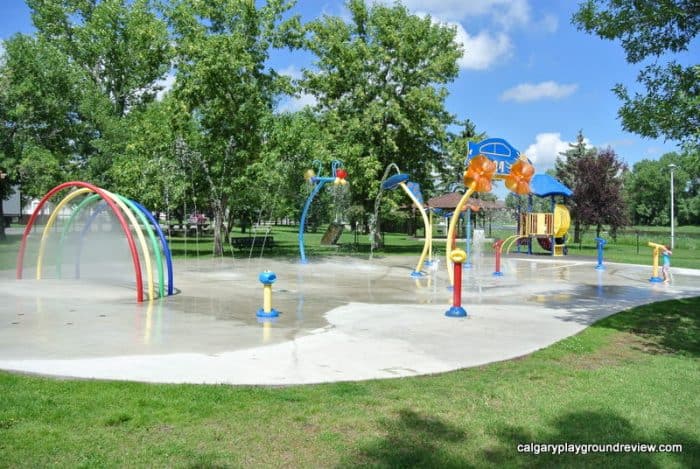 Please Note: 
We do our best to ensure the information on Calgary Playground Review is accurate, however information and events are subject to change. Please contact the organizations directly to avoid disappointment.
Can you help make this article better?
If you have noticed an error, have additional information or would like to share a comment you can:
E-mail us at calgaryplaygroundreview@gmail.com
Find us on Facebook: CalgaryPlaygroundReview
Find us on Instagram: YYCdana
Tweet us: YYCdana
We are not affiliated with any venues, attractions or organizations. Please message them directly if you have questions or concerns.