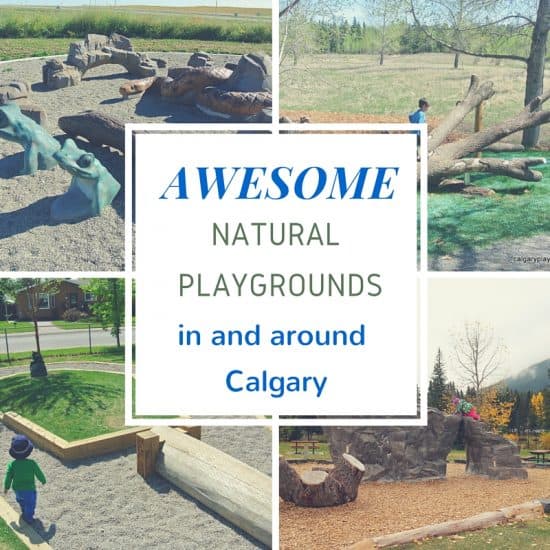 Natural playgrounds are the hot new trend in playgrounds right now and they are already popping up in the Calgary area. Living in the city, kids don't get as much opportunity to explore nature, climb big rocks and walk on logs.
Natural playgrounds are an attempt to bring some of those experiences to your local playground. Natural Playgrounds use natural and natural looking features to create a play space. This can include things like hills, slides built into a hill, logs, stumps, boulders and rocks, sand, ropes and 'loose part' centres.
Natural playgrounds are reported to have many benefits to encourage more imaginative play, time spent playing outdoors, reduce conflict at the playground and increase multi-generational use of the park space.
Some natural playgrounds try to use nearly all natural and natural looking components and others combine traditional play structures with natural play components. I've included both types below.
Calgary
Location: 9 Avenue and 14 Street S.E.
Mills Park in Inglewood opened a new natural playground in 2017. It includes musical features, a sand area, logs for climbing as well as swings and slides.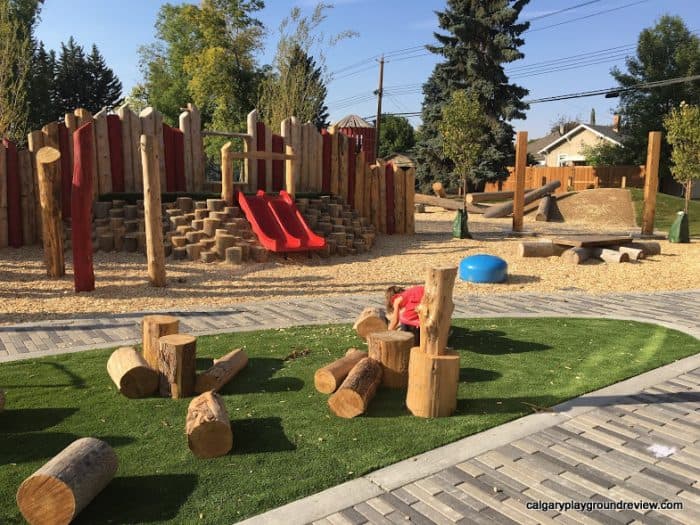 Location: 30 Ave. & 10 St. N.W.
Confederation Park has a new natural playground where the old playground used to be on the far East side of the park. It includes a huge slide, a sand area with a working tap, swings and an canoe shaped climber.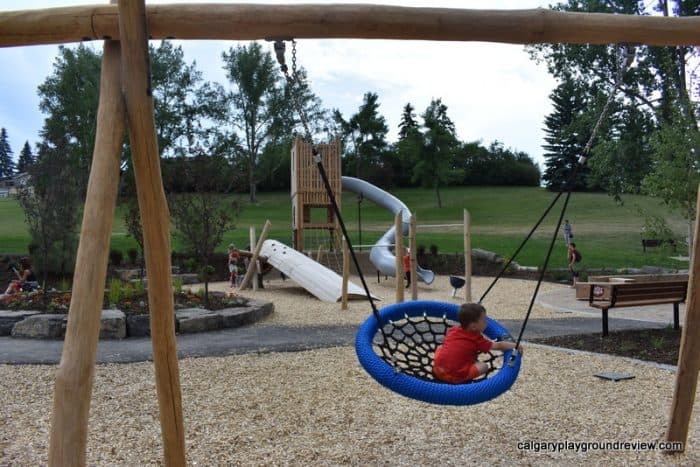 Location: 1204 89th Ave SW
Haysboro completed Phase 1 of their natural playground project in 2015 and expects to complete phase 2 in 2017. It is currently Calgary's most natural playground and includes slides built into the hill, a log and stump obstacle course, a rope bridge, labyrinth and more.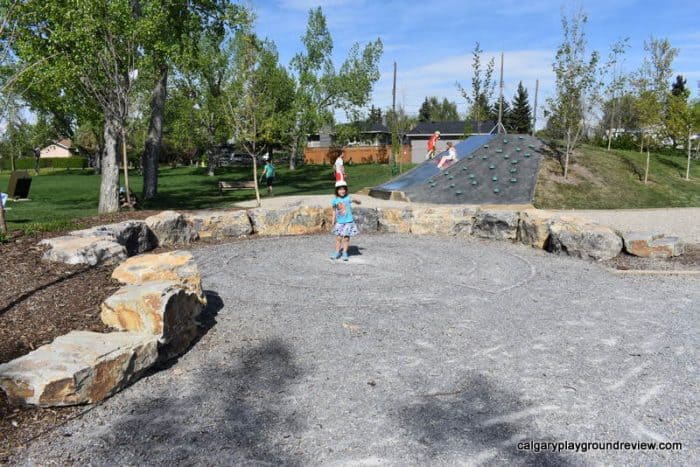 Location: 1300 Zoo Rd. NE
St. Patrick's Island is a mixed natural and traditional playground including a slide built into the hill and equipment made of ropes and wood. You can also wade in the rocky river water at the other end of the park in the Seasonal Breech.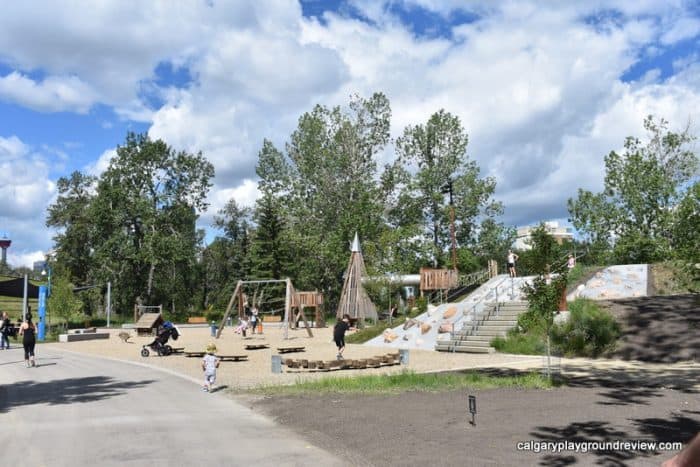 Location: 7 Ave and 6 St SE
The new East Village playground is another playground that uses natural and traditional equipment. It is built into a hill rather than a flat space and includes a big log play structure, stumps and rocks.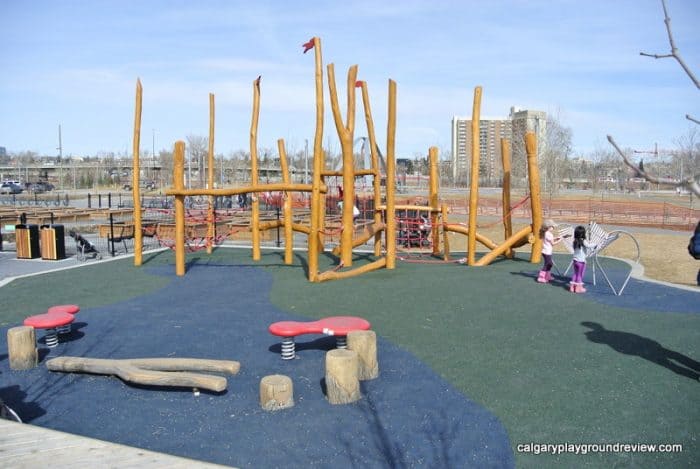 Location: Telus Spark – 220 St Georges Dr NE (requires admission to Telus Spark)
The Brainasium at Telus Spark also includes many natural playground features. It has a small slide built into the hill, a big log climbing structure a log forest and more.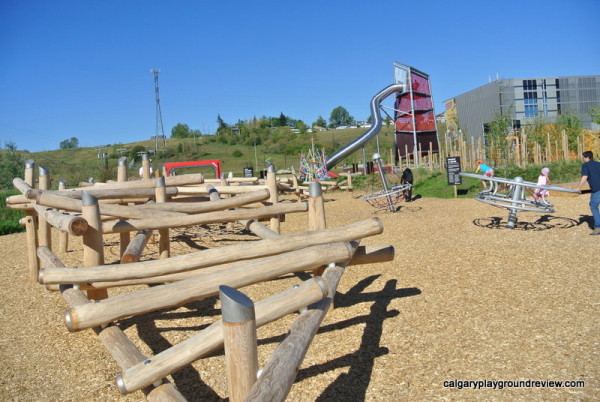 Location: 43 St and 10th Ave SE
This playground is built out of natural looking materials including logs, stumps, rocks, boulders and ropes.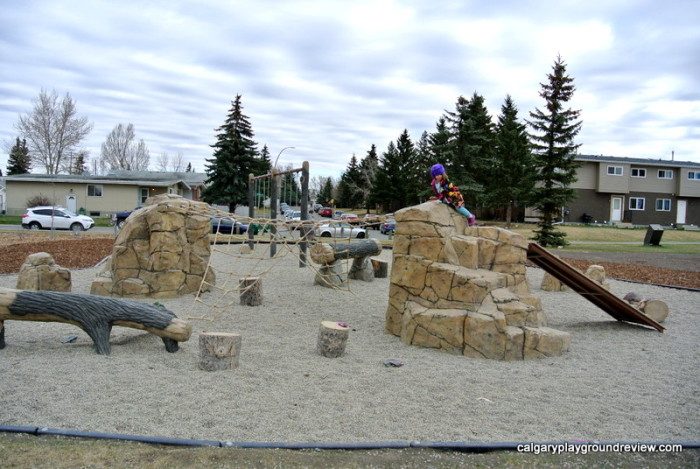 Rotary/Mattamy Greenway Playgrounds
Most of the playgrounds along the Rotary/Mattamy Greenway are built out of natural looking materials. There are three that I know of so far.
1. Mahogany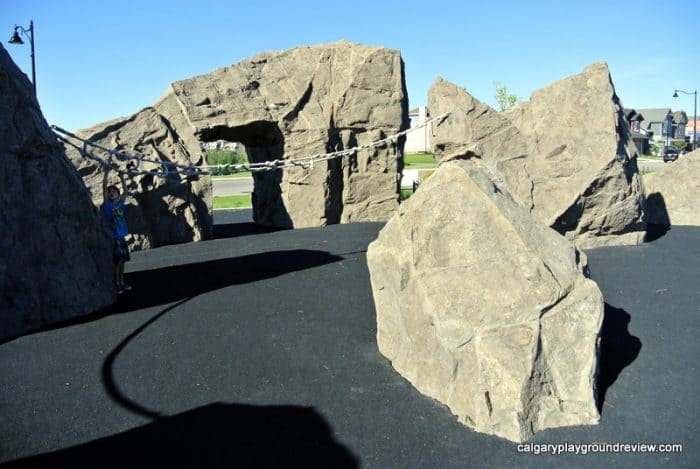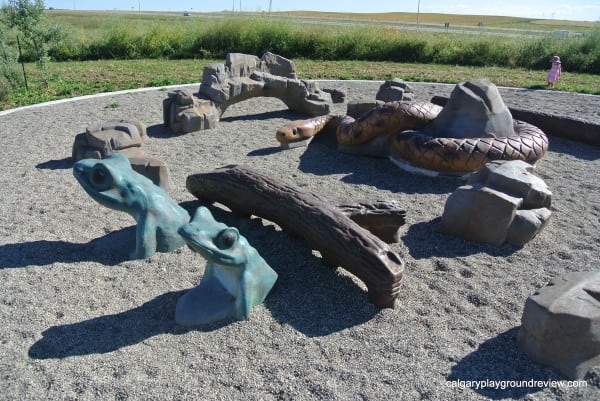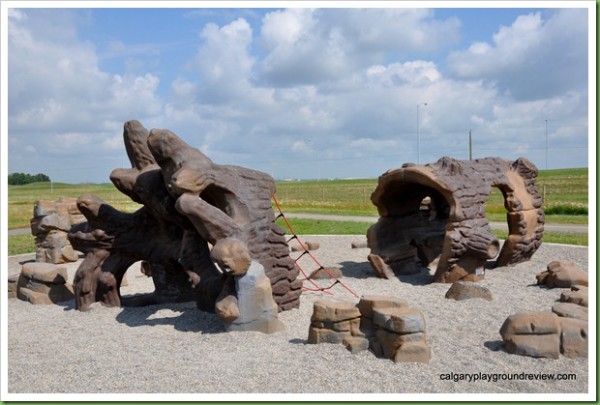 Elsewhere in Alberta
Cochrane
Griffin Road and Cowboy Trail (highway 22)
Cochrane's new natural playground is located in a Riverfront Park and includes a sideways tree, rope web, stumps, logs, a small slide built into the hill.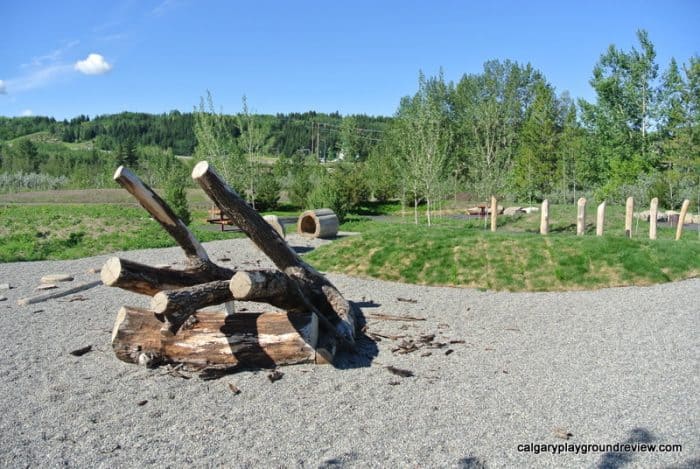 Airdrie
Location: Cooper's Crossing – Coopers Drive and Coopers Crescent SW
This awesome playground has a section of natural playground materials, a hill slide and a lovely surroundings with natural grasses and wildflowers.
High River
Location: Birchwood Park – 1 Avenue and 1 Street S.E.
This playground features hills, logs, boulders, sideways tree play structures and an embankment slide.
See our review of Birchwood Park's Natural Playground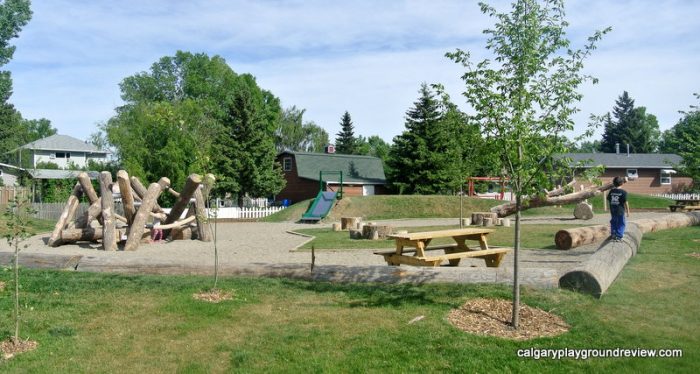 Banff
Location: Central Park (right next to the Banff Park Museum at 91 Banff Ave)
Banff's Central Park playground includes climbing boulders, rocks, logs, and slides in a really gorgeous mountain setting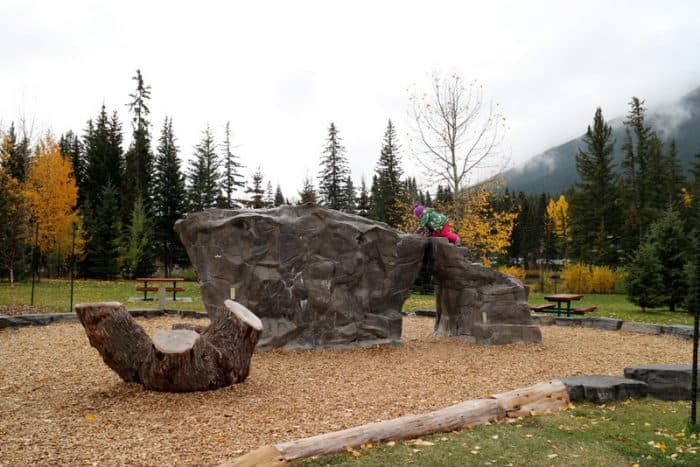 Red Deer
Location: Waskasoo Park – 6300 45 Ave, Red Deer
In addition to a great slide, kids can walk on logs, hop from stump to stump, crawl along a web and play with loose rock and wood pieces. Kids can also pump water down a 'stream' in the summer months.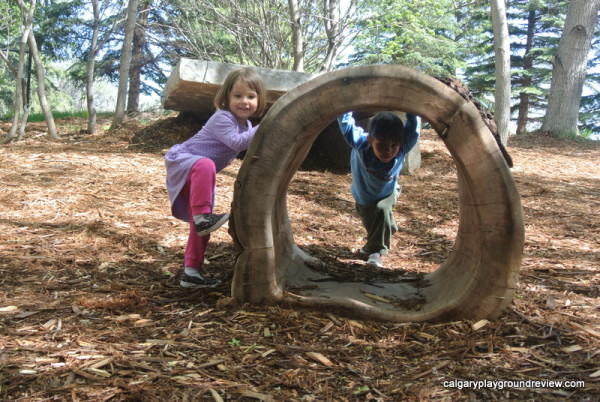 Edmonton
Location: Jackie Parker Park – 4540 50 Street NW, Edmonton
This huge sprawling playground is really more like 4 separate adjacent playgrounds and a spray park. One of the sections is made up of natural looking materials.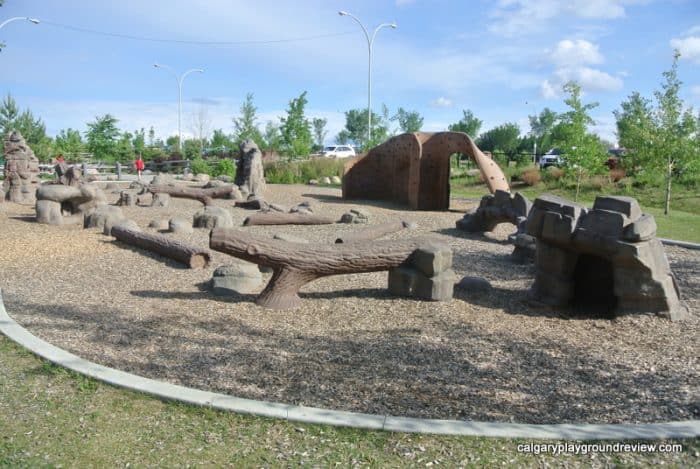 Spruce Grove
Spruce Grove Natural Park
Location: Main Street and Mohr Avenue
Features a slide built into a hill, ropes and rock climbers that will challenge even big kids.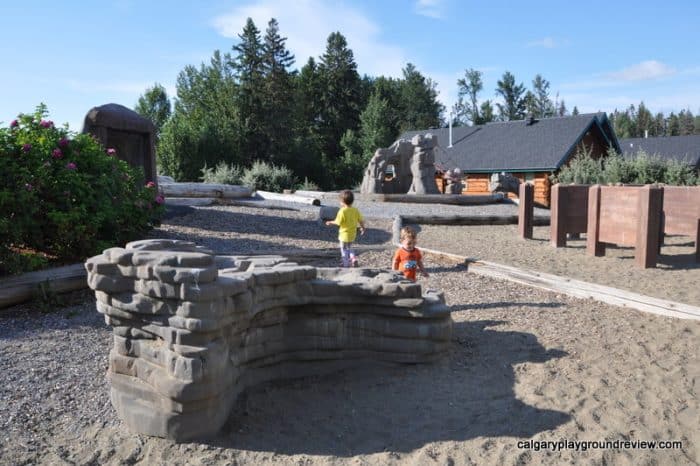 Do you know of any other natural playgrounds that should be on this list?
Please Note: 
We do our best to ensure the information on Calgary Playground Review is accurate, however information and events are subject to change. Please contact the organizations directly to avoid disappointment.
Can you help make this article better?
If you have noticed an error, have additional information or would like to share a comment you can:
E-mail us at calgaryplaygroundreview@gmail.com
Find us on Facebook: CalgaryPlaygroundReview
Find us on Instagram: YYCdana
Tweet us: YYCdana
We are not affiliated with any venues, attractions or organizations. Please message them directly if you have questions or concerns.