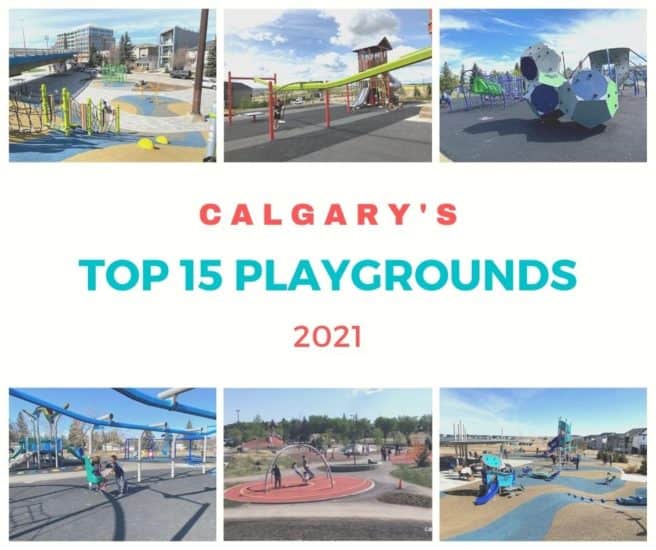 In no particular order here are this year's picks for Calgary's top playgrounds of 2021. These playgrounds represent some of the best from around the city. Some of the playgrounds have been on the list before but most of them are new this year.

651 McDougall Rd NE
Flyover Park is an eye catching inner city park that is unlike any other playground in the city. This playground looks really cool and the play value is really there too. Effort has been made to make this park appeal to people of many different ages.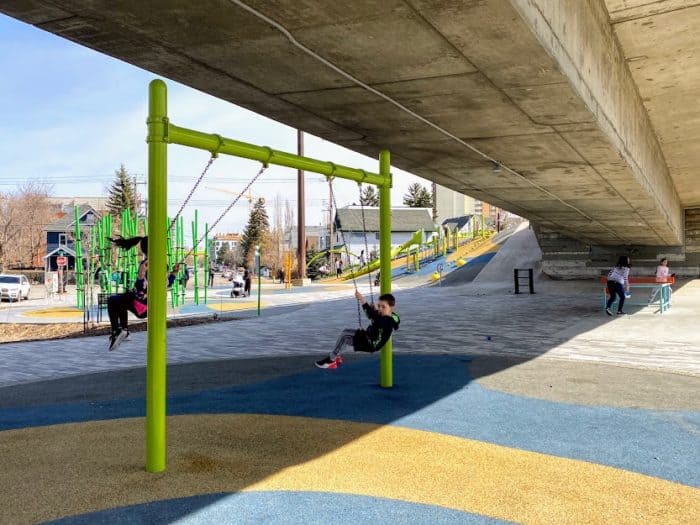 Seton – 91 Seton Gardens SE
This eye catching inclusive playground in Seton is a great community space for people of all ages. The playground has a lot to offer from inclusive features like the accessible flooring to the covered picnic area as well as some super fun equipment like the tall tower and roller slide.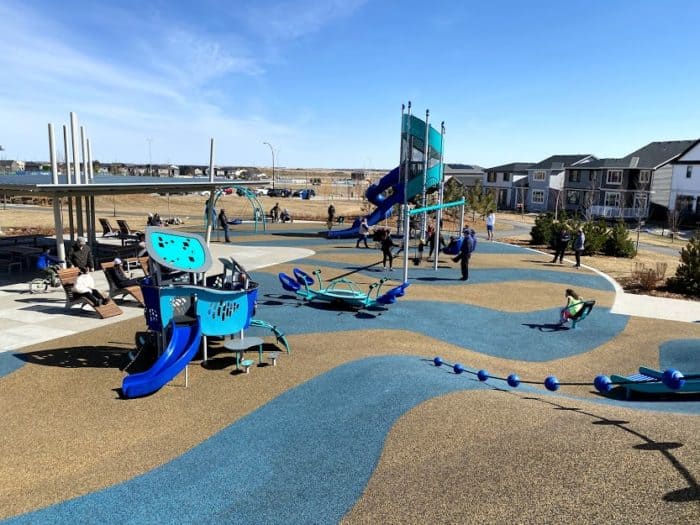 Shouldice Park – 4900 Monserrat Dr. N.W.

One of the most inclusive and best playgrounds in Calgary will be a hit with kids of all ages and abilities. This playground is located in a lovely park and includes musical features, tons of options for spinning, swinging and bouncing, a huge ramp system and interesting climbers.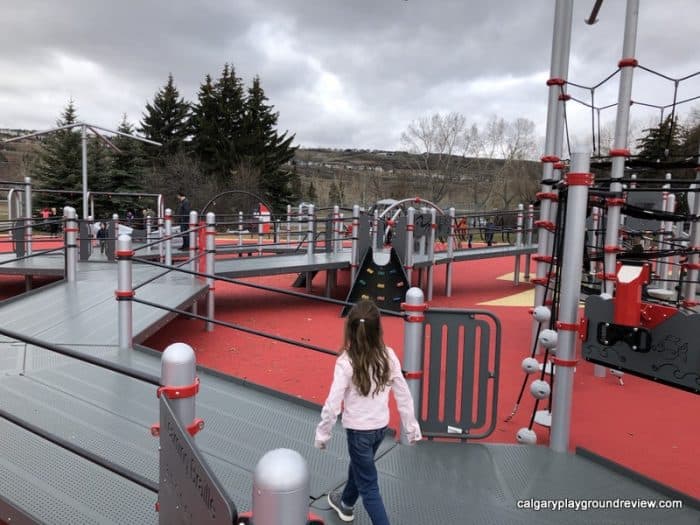 Ralph Klein Park – 12350 84 St. S.E. (near Stony Trail and 114 St SE)

The unusual mountain inspired climber, large log jam, sand pit and zipline make this playground a winner.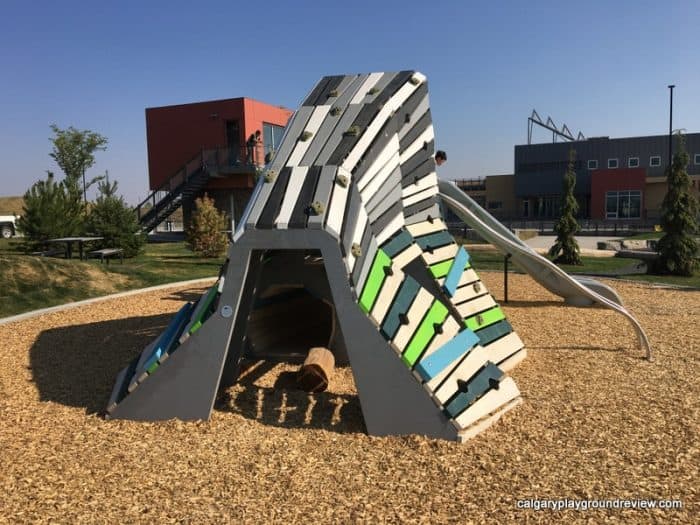 5600 Centre St N
This awesome new inclusive playground has accessible flooring throughout and includes two different tandem swings and a double zipline!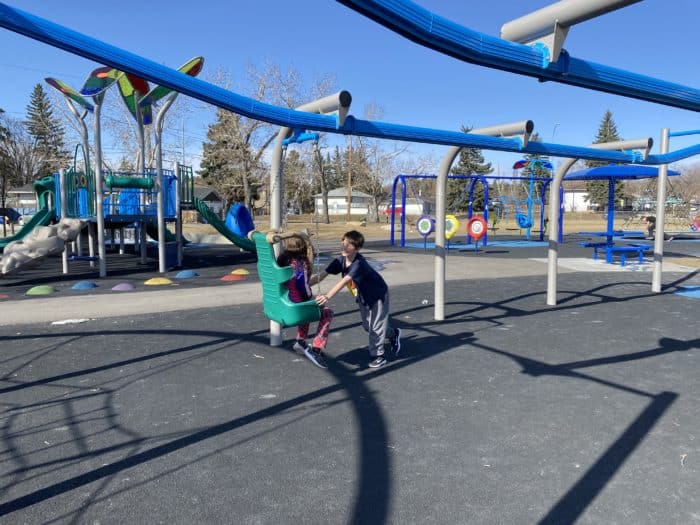 Off Belmont Drive SE (South of 22X, West of Macleod Trail/Highway 2A)

The colourful little hills are both fun and eye catching. The equipment is unusual and full of playfulness.
Livingston – Lucas Crescent and Lucas Parade NW
This inclusive playground in the North West community of Livingston has been specifically designed to be accessible for the hearing and visually impaired.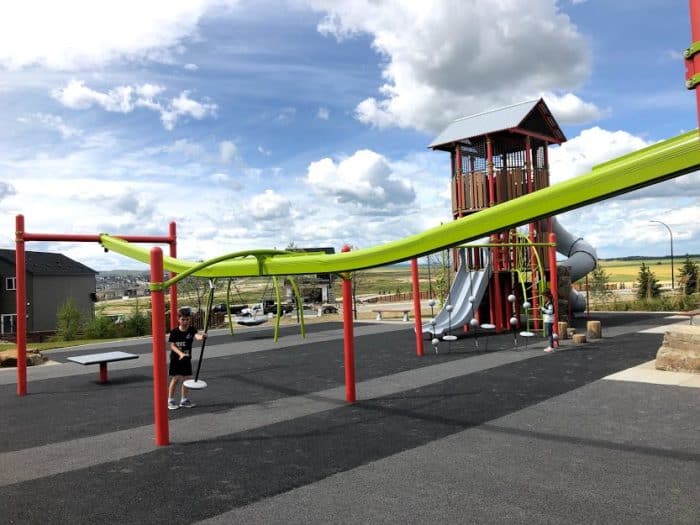 Martindale – 1027 Martindale Blvd NE
In many ways this playground looks similar to many school playgrounds around the city but this one is a cut above. There is accessible flooring making it easy for everyone to get around, some interesting climbing equipment for kids to challenge themselves on and some uncommon features like the roller slide and the musical features.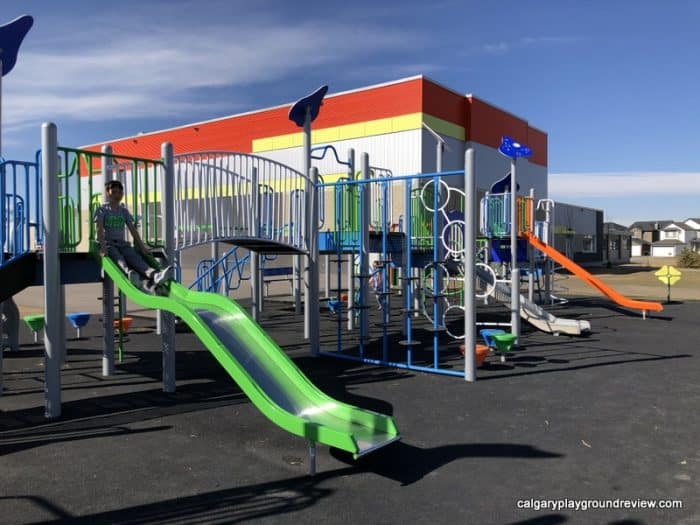 Currie Barracks – 2953 Battleford Ave SW

The airplane theme is really attractive, the flooring is accessible and the control tower slide is really tall. One of the best themed playgrounds in the city.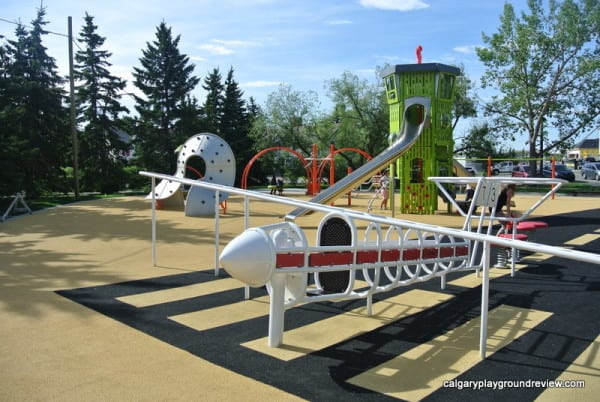 Haysboro – 10 Hillgrove Crescent SW
The playground at Eugene Coste School has some really cool climbing equipment that will impress your older kids.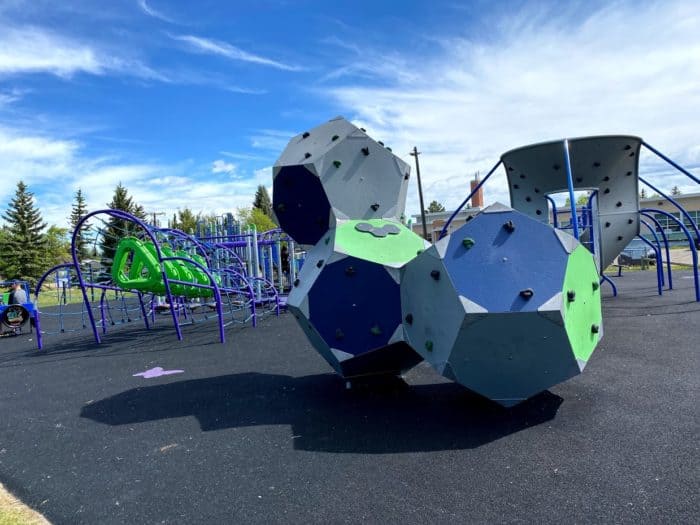 Thirsk St NW & Kovitz Ln NW
The new Northwest Commons Park at the University District, strives to be a park for everyone. Not only does it place a strong emphasis on accessibility and inclusiveness, it also provides park space for multi-generational enjoyment with a nearby dog run, attractive green space and outdoor ping pong table.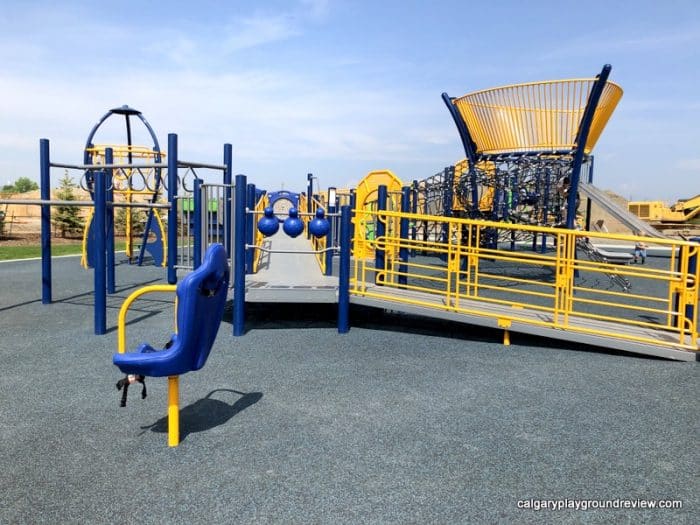 Evanston – 30 Evanscove Cir NW
This playground strives for both accessibility and inclusiveness and includes things like a climber with a good ramp system and steps, a roller slide and a seated spinner with back support. The playground also includes spaces that could be used as quieter spaces and includes tactile and auditory features.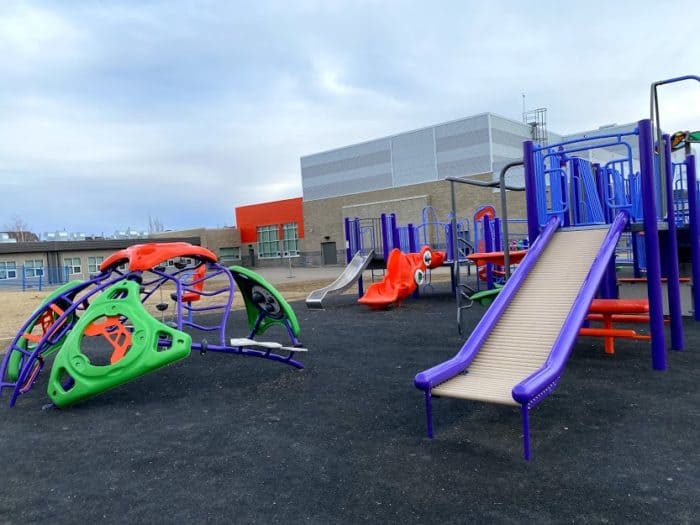 Westwinds/Castleridge – 233 Castleridge Blvd. NE.

Prairie Winds has two fantastic playgrounds. The nature-inspired north playground and an accessible south playground. They are both great playgrounds and only a short walk apart. Prairie Winds Park also has a free wading pool and spray park in the summer months.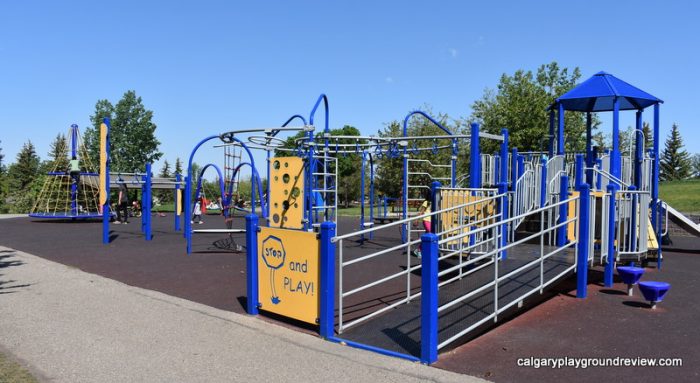 Carrington – Carrington Blvd near Carrington Rd NW
If your kid is a fan of slides, they will love this new Carrington playground with lots of awesome slide options.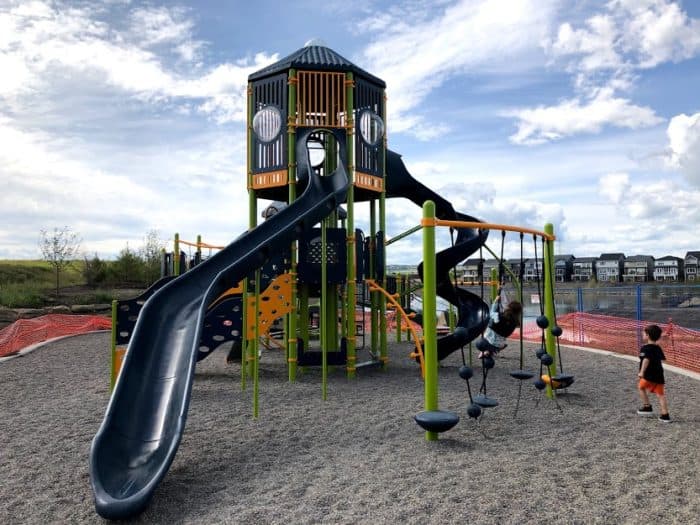 East Village Playground – East Village – 7 Ave and 6 St SE
St. Patrick's Island Playground – 1300 Zoo Rd. NE

These playgrounds are actually found in two separate parks, but they are a walkable distance (or short bike ride) apart. They are both great playgrounds so I have included them both this year. Both playgrounds are nature-inspired and include unusual equipment.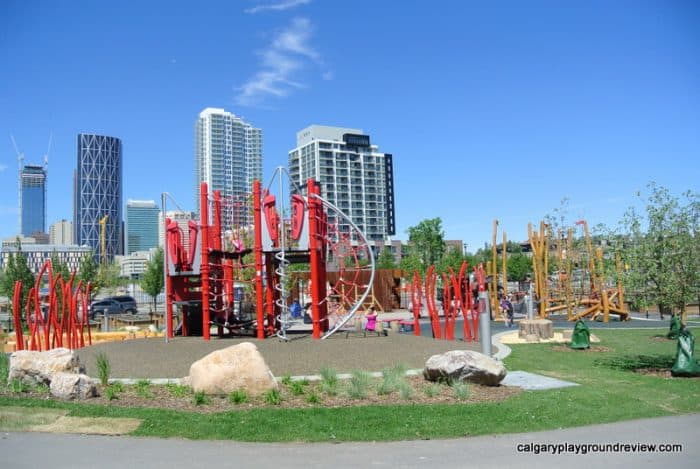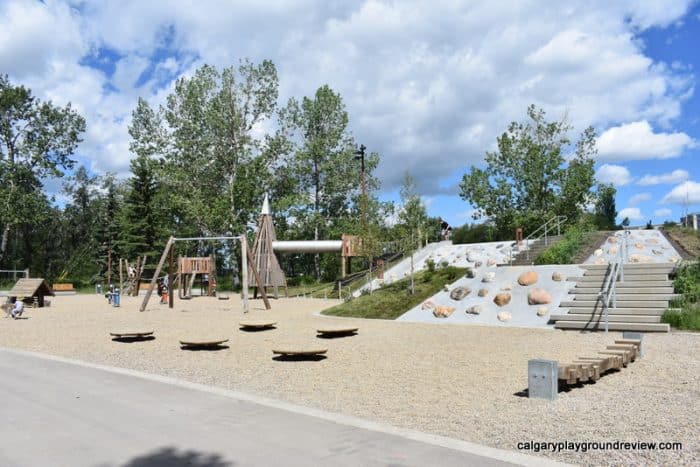 Honorable Mention
Glamorgan – 4331 41 Ave SW
This playground is lacking accessible flooring which would have increased its inclusiveness, but it has some really awesome features including a double zipline (one accessible).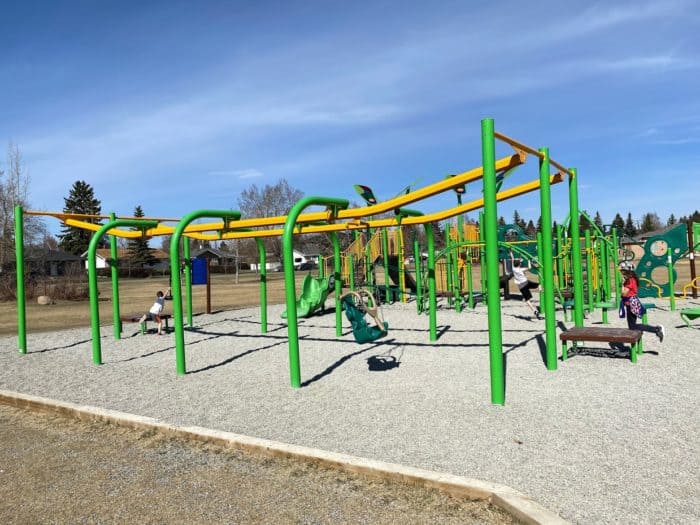 Calgary Zoo – 210 St. George's Drive NE, Calgary, AB
Bugtopia is the Calgary Zoo's newest playground. It is an immersive, nature inspired play experience designed for kids 2-12 years old. Regular admission to the Zoo is required.
You may also be interested in:
Please Note: 
We do our best to ensure the information on Calgary Playground Review is accurate, however information and events are subject to change. Please contact the organizations directly to avoid disappointment.
Can you help make this article better?
If you have noticed an error, have additional information or would like to share a comment you can:
E-mail us at calgaryplaygroundreview@gmail.com
Find us on Facebook: CalgaryPlaygroundReview
Find us on Instagram: YYCdana
Tweet us: YYCdana
We are not affiliated with any venues, attractions or organizations. Please message them directly if you have questions or concerns.